Preparing at Home for Emergencies
More often than not, when we hear people discussing the need for emergency supplies, we often think of terrible events; category-5 hurricanes, unexpected tornadoes, regional blackouts, or flash flooding. While those are all good things to be equipped for, it can often be the unexpected life changes that are good to prepare for as well.
From job loss, a sudden lack of transportation, or a dangerous accident at home, having emergency supplies on hand at home is an important element often overlooked. While everyone should decide what is important to keep in their home, we've compiled a list of some supplies to get you started on your journey for emergency preparedness.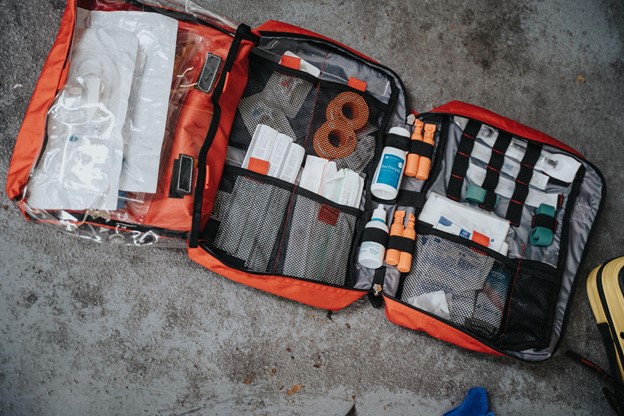 First Aid Kit:
Emergencies can be made all the worse with injuries, and being prepared to treat bodily trauma can make a huge difference. You can purchase off-the-shelf medical kits which include many basic supplies, or prepare a custom pack on your own.
Bandages
Antibiotic ointments
Eyewash solution
Burn ointment
Gloves
Pain medication (e.g. aspirin or ibuprofen)
Any needed prescription
Food & Water:
Reserving food supplies whether due to financial insecurity or a disaster can be crucial to keeping you and your family healthy. Maintaining an inventory of long-lasting foods can be accomplished with an extra stop at the local grocery store, and rotating out expired foods as needed.
Canned Foods

Soups
Vegetables
Beans
Fruit
Canned meat

Non-perishables

Peanut butter
Dried fruit
Crackers
Protein or granola bars

Plenty of bottled water
Emergency Tools:
Having a set of quality tools during emergency situations – such as lack of electricity or damage to the home – can make a world of difference. Being able to cover a window broken during a hurricane with simple cardboard and duct tape can help by shielding from the elements as well as preventing further damage to you or your home.
Flashlight
Multi-tool
Scissors
Can opener
Duct tape
Miscellaneous
Not in any specific category is the stuff that you might not necessarily think of right away. These are the items that you wish you had remembered sooner – and we're here to help inspire those thoughts.
Maps of your local area
Solar battery charger
Battery or hand-crank radio
Waste disposal bags
Emergency cash
personal hygiene items
Pet food and supplies
Dust mask
Pen & paper
Paper plates, cups, plastic utensils
Backpack
Entertainment
If you're stuck indoors with no electricity, having a way to keep yourself and your family entertained and mentally stimulated can be just as important as anything else on this list. Every family has its favorite games and activities, so be sure to keep a few with your emergency supplies.
Boardgames
Books
Puzzles
Art supplies